Roll over image to zoom in
Description
Save your time when you're grilling this BBQ season this summer. Our BBQ Bear Claws can shred meat quickly & efficiently & are designed with the durability to have multiple purposes.
No longer a chore to shred large meat or turkey. Say goodbye to your fork and knives and get yourself a claw meat shredder! 
Do you want to shred meat quickly and easily? Look no further! Our BBQ Bear Claw Meat Shredder has your back. Now you have the best tool to use to shred your meat or lift it off your grill or out of your oven. With our claw meat shredder, this will keep your hands protected and from getting burned. Turn, lift, and carry hot meat dominate chicken, beef, brisket, turkey, poultry, pork, hams, roasts, and anything from your slow cooker, grill, or smoker without dropping them, stabilize your foods for carving, or toss salads in the basket for a side dish.
The BBQ Bear Claw Meat Shredder is designed to help you effortlessly shred pork, chicken, beef, brisket, turkey, poultry, hams, roasts for burritos, etc. It is the only meat shredding tool that fits your hands perfectly, acting as an extension of your arms and allowing you to shred meat without getting burned or melting your tools. Time-saving, effective sharp, solid in the backside for dishwasher safe– your must-have kitchen gadget!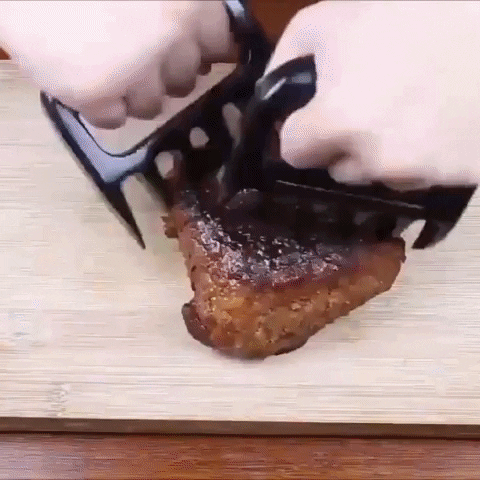 FEATURE(S):
TOUGH ON ALL KINS OF MEAT: The claws are scientifically designed and sharp enough to easily tear the meat apart while lifting food easily. It improves the grip, so you can easily carry the meat or tear it off without burning your hands.
COMFORTABLE GRIP: The claw handles closely fit the palm curve and increase grip and effectively relieve hand fatigue. It is totally non-slipping, perfect for long time griping.
DISHWASHER SAFE: Being ergonomically designed, our claw meat shredders are dishwasher safe. They also dry fast and no odor or residue left after cleaning.
CONSISTENT: Our BBQ Bear Claw Meat Shredder perfectly shred meat in minutes without the mess and headache of knives and forks; quickly fix pulled meat or fruit and toss the salads.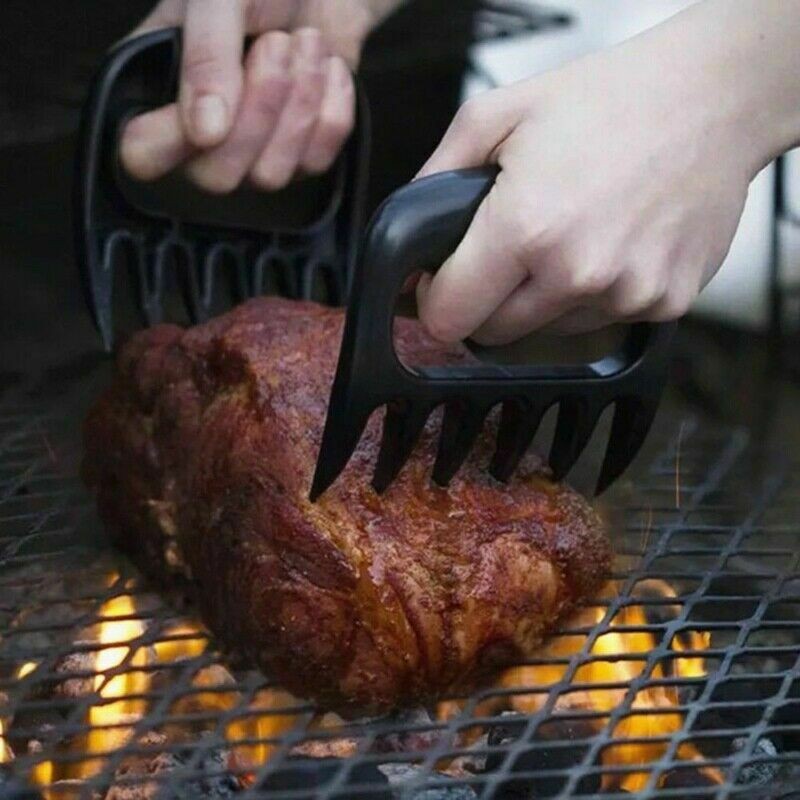 PREMIUM HIGH-QUALITY MATERIAL: Our set of 2 BBQ Bear Claw Meat Shredder provides High-Temperature Resistance, non-stick and durable, made of tough material, never melt or bent and never fall apart.
SAFE & HEALTHY MATERIALS: The claw meat shredder is made of approved 100% safe plastics. It is safe to use with heat-resistant up to 230℃/446°F that prevent claw meat shredder to melt. You can now carry hot BBQ smoker and roasts securely and against burning hands.
SPECIFICATION(S):
Material: PC
Size: Approx. 11.5

 

11

 

2.4cm
PACKAGE INCLUDE(S):
Q&A:
Q: How does it work on a chicken breast, since it's typically more firm than pork?
A: Our BBQ Bear Claw Meat Shredder is solid and hard enough to pull chicken breast easily, don't worry about it.
Q: Does it have a sturdy and solid claw tips?
A: It is 100% solid claw tips and there are no open holes on this bear claws tips.
Q: Where are these made and of what material? Are these BPA free?
A: The material is heavy-duty nylon plastic. They are BPA free.
Q: Is this easy to clean?
A: Yes, actually it is dishwasher safe. You can also wash this by hand using soap and water. 
Shipping Policy
Your order will be processed within 1-2 business days after you have completed your transaction. After your order is processed, you will receive an email with your tracking information right away.

We offer FREE US shipping, with our average delivery time ranging from 6-14 business days.

While over 90% of businesses are closed during these unprecedented times, we remain open. However, our stock is more limited than ever so please note that shipping times may face potential delay due to the pandemic.

For more information on our shipping, please click here. Please allow that it may take up to or over 2 weeks for your order to deliver due to high demand and the pandemic crisis. Thank you for your understanding!
Our Guarantee
Usually, we offer free exchanges and returns here at ShoppyBay! However due to the current situation of the virus crisis, we have closed our receiving mail address due to delayed transport times. This means that all orders placed during this period will be on FINAL SALE.
Buying items online can be a daunting task, so we want to reassure you that there is no risk of buying from us and trying our products out. If you are unsure, you can click here to get an additional 1-year warranty. Please note that if an item is on sale, we only offer an hour grace-period to make ANY changes to your order. Items on sale are on extremely high demand therefore we must send out invoices to our manufacturer every night.
How do I pay if I don't have a PayPal account?
1. Select your cart and click "check out". Fill in your shipping information and click "complete order".
2. In the pop-up window, click on the location on the image below to activate PayPal Guest Checkout.
3. Choose your bank country.
4. Now you can use your preferred credit card to pay.
5. Final option:
Do you want to use this credit card to create a Paypal account?
According to your needs, choose yes or no.

6. Successful transaction and you will receive an email with your tracking number once your order has been fully processed.
Payment & Security
Your payment information is processed securely. We do not store credit card details nor have access to your credit card information.