Roll over image to zoom in
Description
Give your special someone a gift they will never forget. with this vibrant, Galaxy Rose! It arrives beautifully packaged and ready to go! 

Forget those roses that die out a couple of nights after you buy it. Each lovely rose is delicately hand-made and designed to last forever.
Just imagine seeing the look of joy and love on your special someone's face when you gift them this beautiful galaxy rose. Keep this unique rose as a reminder of the everlasting love the two of you share! The perfect anniversary or valentines day gift for your loved one, or for yourself!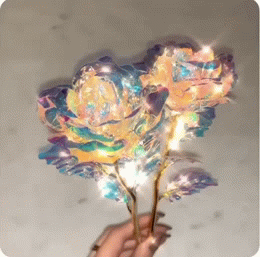 What are they made of?
The process in which our roses are crafted is very unique. First, we coat the stems in 24k gold. Then we hand place each iridescent fiber-glass petal which makes the roses look so eye-catching! 

Each rose is one of a kind and made to last a lifetime so your loved one will be reminded every single day just how much they mean to you!
Galaxy Rose Feature(s):
Every rose is one of a kind just like your loved one!
Comes with gift box
Each rose is handmade
Elegantly crafted to look both beautiful and realistic!
Amazing shine!
Not available in stores
Standard length, approximately 11-12" long.
Completely unique gift, no other gift can compare!
Shipping Policy
Your order will be processed within 1-2 business days after you have completed your transaction. After your order is processed, you will receive an email with your tracking information right away.

We offer FREE US shipping, with our average delivery time ranging from 6-14 business days.

While over 90% of businesses are closed during these unprecedented times, we remain open. However, our stock is more limited than ever so please note that shipping times may face potential delay due to the pandemic.

For more information on our shipping, please click here. Please allow that it may take up to or over 2 weeks for your order to deliver due to high demand and the pandemic crisis. Thank you for your understanding!
Our Guarantee
Usually, we offer free exchanges and returns here at ShoppyBay! However due to the current situation of the virus crisis, we have closed our receiving mail address due to delayed transport times. This means that all orders placed during this period will be on FINAL SALE.
Buying items online can be a daunting task, so we want to reassure you that there is no risk of buying from us and trying our products out. If you are unsure, you can click here to get an additional 1-year warranty. Please note that if an item is on sale, we only offer an hour grace-period to make ANY changes to your order. Items on sale are on extremely high demand therefore we must send out invoices to our manufacturer every night.
How do I pay if I don't have a PayPal account?
1. Select your cart and click "check out". Fill in your shipping information and click "complete order".
2. In the pop-up window, click on the location on the image below to activate PayPal Guest Checkout.
3. Choose your bank country.
4. Now you can use your preferred credit card to pay.
5. Final option:
Do you want to use this credit card to create a Paypal account?
According to your needs, choose yes or no.

6. Successful transaction and you will receive an email with your tracking number once your order has been fully processed.
Payment & Security
Your payment information is processed securely. We do not store credit card details nor have access to your credit card information.