Roll over image to zoom in
Description
Feed songbirds not squirrels, starlings, or grackles. This Hanging Bird Feeder is designed to squirrel proof and prevent any pesky squirrel that wants to steal your songbird's food.
Don't let the squirrels drive you nuts. Protect your bird feeder from those perky thieves!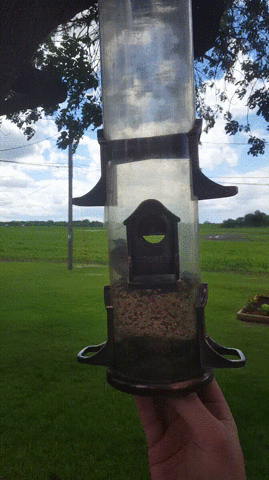 How can I keep squirrels from climbing to get into my bird feeder? Is that one of the concerning situation before getting a new bird feeder? When you plan to create a bird-friendly yard, you are likely to also attract other more furry visitors like squirrels and they can chase off birds and even make your feeder messy. Worry no more, because this Hanging Bird Feeder Squirrel Proof is the solution to prevent that scenario to happen! Now you can have a bird feeder that is difficult to reach by squirrels.
Sometimes squirrels are cute and cuddly but most of the time, they are really annoying – a problem for most birders that definitely needs to be resolved. Our Hanging Bird Feeder Squirrel Proof is the best choice that makes it easy to place a good supply of seeds without the worry of other creatures having a free meal. A great option to check out.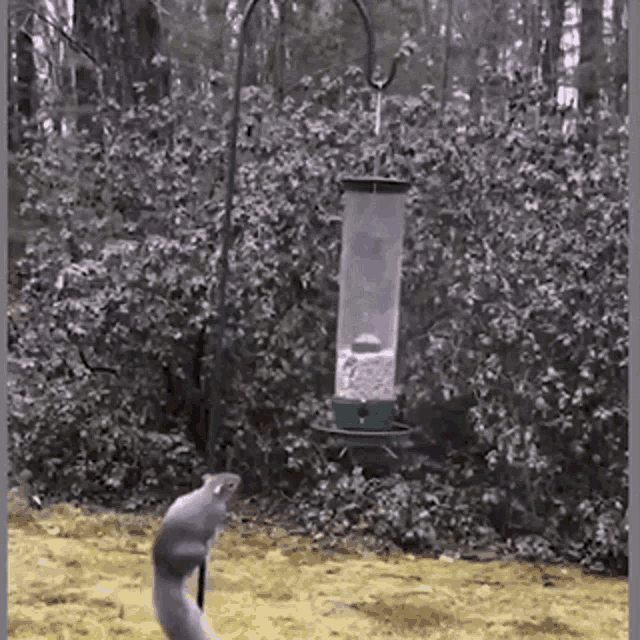 FEATURE(S):
METAL FEEDING POLES: With its 23cm high, it can contain 1000 g of mixed seeds. Four feed ports allow more birds to feed at once. The support can be installed on support for birds, a feeding station, a feeding hook, a pole, and a tree branch. The domed helper keeps food dry and clean for bird feeding.
CATERS ALL BIRDS: We care about wild birds. This Hanging Bird Feeder Squirrel Proof helps them find food more easily during the winter. Perfect for goldfinch, blackbird, chickadee, bluebird, songbird, passerine, sparrow, purple chaffinch, and much more. With rainwater drainage holes, a feeding platform, and perches allowing birds to stay.
DURABLE & RUST-RESISTANT: Worn and worn, never rusted. From its top, base, feed holes, perches, copper power layer, sturdy, rust-resistant construction this can withstand for everyday use. It has a traditional design that invites more feathered birds in your garden that adds more liveliness to your garden life.
SEED MIXTURE: This Hanging Bird Feeder Squirrel Proof is suitable for feeding most types of seeds and seed mixtures, mealworms, and sunflower seeds to attract birds, including woodpeckers, house sparrows, goldfinch, goldfinch, blue tit and greenfinches, chickadees, sparrows, nuthatches.
FLIP TOP FOR OPENING: Our bird feeder is delivered with a lifting lid for easy and practical filling. Regular cleaning will keep the feeder and seeds clean to attract more birds.
CLEAR VIEW: This Hanging Bird Feeder Squirrel Proof is a transparent seed compartment so you can easily feed pets or wild birds and watch them in your free time. The translucent design also makes the bird feeder simple and clear allowing you to see when to refill again.
SPECIFICATION(S):
Material: Plastic
Size: 23 x 14cm / 9.06 x 5.51 inch
PACKAGE INCLUDE(S):
Q&A:
Q: How to clean this Hanging Bird Feeder Squirrel Proof?
A: Completely disassemble this bird feeder for you to clean it.
Q: I just want to double-check-- does this hold whole sunflower seeds (i.e. is the feeding whole big enough)?
A: Yes. This is a great feeder and would recommend it to anyone. It will hold a variety of seeds and might even fit a fruit and nut blend.
Q: Is this material is safe for birds?
A: Yes, it is safe and non-toxic.
Q: Is this waterproof?
A: Yes, it is water-resistant.
Shipping Policy
Your order will be processed within 1-2 business days after you have completed your transaction. After your order is processed, you will receive an email with your tracking information right away.

We offer FREE US shipping, with our average delivery time ranging from 6-14 business days.

While over 90% of businesses are closed during these unprecedented times, we remain open. However, our stock is more limited than ever so please note that shipping times may face potential delay due to the pandemic.

For more information on our shipping, please click here. Please allow that it may take up to or over 2 weeks for your order to deliver due to high demand and the pandemic crisis. Thank you for your understanding!
Our Guarantee
Usually, we offer free exchanges and returns here at ShoppyBay! However due to the current situation of the virus crisis, we have closed our receiving mail address due to delayed transport times. This means that all orders placed during this period will be on FINAL SALE.
Buying items online can be a daunting task, so we want to reassure you that there is no risk of buying from us and trying our products out. If you are unsure, you can click here to get an additional 1-year warranty. Please note that if an item is on sale, we only offer an hour grace-period to make ANY changes to your order. Items on sale are on extremely high demand therefore we must send out invoices to our manufacturer every night.
How do I pay if I don't have a PayPal account?
1. Select your cart and click "check out". Fill in your shipping information and click "complete order".
2. In the pop-up window, click on the location on the image below to activate PayPal Guest Checkout.
3. Choose your bank country.
4. Now you can use your preferred credit card to pay.
5. Final option:
Do you want to use this credit card to create a Paypal account?
According to your needs, choose yes or no.

6. Successful transaction and you will receive an email with your tracking number once your order has been fully processed.
Payment & Security
Your payment information is processed securely. We do not store credit card details nor have access to your credit card information.