Roll over image to zoom in
Description
What would you look like if you were a couple of inches taller? Wear these Invisible Height Increasing Insoles inside your socks & confidently present yourself with your new height.
Add an inch of height with these inserts designed to give you confidence so you could walk through a room knowing you look and feel taller.
Does being short bother you? If you want to increase your height by an inch, then our Invisible Height Increase Insoles are the right insoles for you! It is made with custom comfort and is trimmed to fit your foot exactly.

Invisible Height Increase Insoles are made with medical-grade soft silicone which helps to relieve your heel from pain, & discomfort from sore hurting heels, sore feet, plantar fasciitis, bone, or aching heel spurs, stress fractures or sprained foot when walking or running. Fit for everyone who needs that extra inch.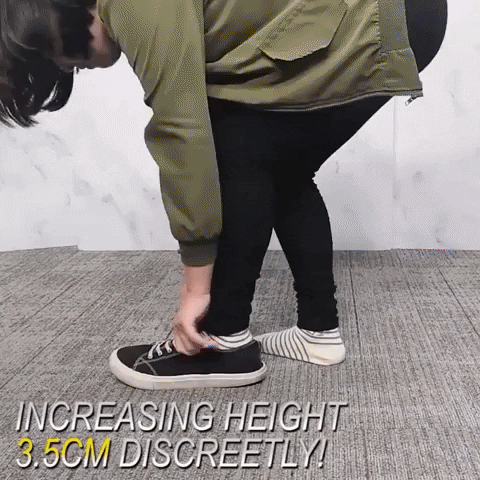 FEATURE(S):
INCREASE YOUR HEIGHT: Wear it in shoes and you will be looked higher than usual. Improve your image and increase your confidence invisibly. Feel happier than usual.
INVISIBLE DESIGN: Wear them inside socks and then wear bigger shoes than usual, no one will find that you wear height increase insoles, no one will notice your shoes, very natural.
HEEL PROTECTORS: With our comfortable, flexible, moisture-wicking, and effective neoprene supports, you'll be back to show off your pedicure at the beach, or hiking, biking, and running as quickly as possible!
SUITABLE FOR MOST SHOES: Wear this with your high sleeve shoe, boots, casual shoes, sports shoes. Low-top shoes or shoes no need to wear socks just this insole and you're good to go.
SOFT SILICONE: This insole is made with soft silicone material that protects the heel and provides good shock absorption. No one will know the secret of your height, suitable for meetings, appointments, weddings, special events.
REUSABLE: After using, you can simply hand wash dry naturally in the air, can be reused, and will not be deformed.
SPECIFICATION(S):
Material: Silicone
Dimensions: 5.51" x 5.51" x 1.97"
Increase Height: 1.18-inch Sock; 1.77-inch Pad
PACKAGE INCLUDE(S):
Q&A:
Q: How many inches will it help you increase your height?
A: It will increase your height by an inch or two.
Q: Is it reusable?
A: Yes, it is. You can just wash it by hand and let it dry so you can use it again whenever you need a little boost.
Q: Will it fit inside my socks?
A: Yes, it will! It has an invisible and fit feature so you can wear it inside your socks without anyone noticing it.
Q: Can I wear it inside my boots?
A: Yes, of course! You can also wear it inside your high sleeve shoe, casual shoes, and sports shoes.
Shipping Policy
Your order will be processed within 1-2 business days after you have completed your transaction. After your order is processed, you will receive an email with your tracking information right away.

We offer FREE US shipping, with our average delivery time ranging from 6-14 business days.

While over 90% of businesses are closed during these unprecedented times, we remain open. However, our stock is more limited than ever so please note that shipping times may face potential delay due to the pandemic.

For more information on our shipping, please click here. Please allow that it may take up to or over 2 weeks for your order to deliver due to high demand and the pandemic crisis. Thank you for your understanding!
Our Guarantee
Usually, we offer free exchanges and returns here at ShoppyBay! However due to the current situation of the virus crisis, we have closed our receiving mail address due to delayed transport times. This means that all orders placed during this period will be on FINAL SALE.
Buying items online can be a daunting task, so we want to reassure you that there is no risk of buying from us and trying our products out. If you are unsure, you can click here to get an additional 1-year warranty. Please note that if an item is on sale, we only offer an hour grace-period to make ANY changes to your order. Items on sale are on extremely high demand therefore we must send out invoices to our manufacturer every night.
How do I pay if I don't have a PayPal account?
1. Select your cart and click "check out". Fill in your shipping information and click "complete order".
2. In the pop-up window, click on the location on the image below to activate PayPal Guest Checkout.
3. Choose your bank country.
4. Now you can use your preferred credit card to pay.
5. Final option:
Do you want to use this credit card to create a Paypal account?
According to your needs, choose yes or no.

6. Successful transaction and you will receive an email with your tracking number once your order has been fully processed.
Payment & Security
Your payment information is processed securely. We do not store credit card details nor have access to your credit card information.