Roll over image to zoom in
Description
*DON'T FALL FOR CHEAP IMITATIONS*
We are a trusted authorized MamboBaby reseller. We advise customers to be wary of other sellers and avoid imitation products.
*05/05/2020 UPDATE*
WE NOW OFFER FAST SHIPPING FOR THIS PRODUCT. SCROLL DOWN FOR MORE INFORMATION.
Want to see a huge smile on your little ones face? Create a nurturing environment where you and your baby can play and learn together!

If you're worried about your baby not getting enough physical activity especially while being stuck at home - take them to the pool or even your bathtub at home with our Baby Float to create a soothing natural swimming environment for them!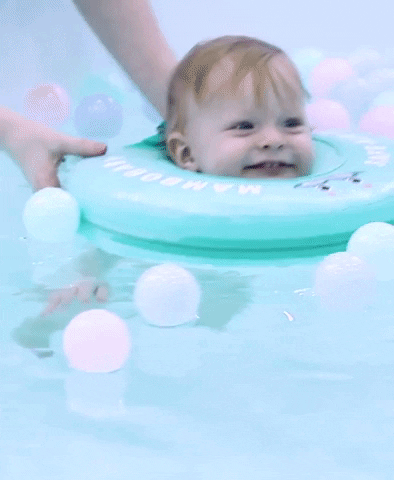 No matter how much you love them we all know that sometimes, you can get tired of taking care of your children, especially when others are enjoying the beautiful hot summer while you're watching on the sidelines. We get it, we've been there.

That's why we thought to ourselves, why not bring your baby to the fun? Extend your bonding moments with your baby and help them gain confidence while having fun in the water so they can become stronger, and more aware of their own body!
Our MamboBaby - Safety Baby Neck Float Ring is suitable for both babies and toddlers to begin safely experiencing water with you! Help them get that right-brain, left-brain activity early on, especially before they start to crawl. Increase lung capacity and swimming reflexes early that they can carry on for the rest of their lives. They'll safely enjoy the water as if they already knew how to swim!
Our MamboBaby Baby Neck Float is a perfect swim training aid for your baby whether it be in the pool or bathtub. Your baby will have a blast and get stronger as they learn to paddle and kick in the water in a natural and safe position. This Baby Float is the ultimate accessory of the year for you and your little bub. Just wait until you see the huge smile on their face!
FEATURE(S):
SPECIFICALLY-DESIGNED FOR BABIES: Ergonomically designed for maximum comfort. It allows your baby to learn to swim in a neutral position instead of an unnatural vertical position.
EASY TO USE: Simply unlock the buckles, put on the baby, and close the wings. You can adjust buckle and the tightness of the float, then your baby can now start swimming safely!
ANTI-FLIP DESIGN: Avoid flipping over or flipping backwards, no matter if they're trying to do a backstroke or breaststroke. This Neck Ring has widened sides for maximum buoyancy to avoid tipping over.
PREMIUM QUALITY: This non-inflate floater is more durable than any other inflatable PVC float. This is a premium material that is moisture-proof, very breathable, lightweight with superior buoyancy.
SAFE WITH SECURITY LOCK: It has a one-press security buckle lock that offers more protection and convenient operation. The strap design avoids slipping. Your baby will be able to see and touch water by hands, the front is not high and there is a groove to their put chin on. No risk of accidental tipping in any direction. 
LIGHTWEIGHT & PORTABLE: This MamboBaby Neck Float Ring comes with a waterproof bag. It is lightweight and very portable. You can take this to the beach and pool. It dries quickly in a ventilated place.
SPECIFICATION(S):
Material: Eco-friendly PVC
Type: Neck Ring Float
Size Diameter: 
M: 9 cm 
L: 10.5 cm
Recommended Ages: 0 months to 12 month (6-18kg/ 13-40lbs)
Product Generation:

 

2020 
PACKAGE INCLUDE(S):
Q&A:
Q: Is this rubber made or plastic?
A: Outer part is a soft artificial rubber-like where the chin lies, and inside the floater has those little balls in it.
Q: What fabric is this?
A: It is a breathable shell fabric.
Q: What suitable size is for my eight months old baby?
A: A large size is now best for over eight months old baby.
Q: Does the circle for the neck is safe?
A: Yes. It is made smooth for baby's comfort.
WARNING - PARENTS PLEASE ALWAYS MAKE SURE:
Your baby's umbilical cord has fallen off

Keep all packaging materials away from the baby after opening and do not let your baby play with its parts

NEVER remove your eyes from your infant for even one second and always stay within arm's reach of your infant while in water during use
Do NOT use this product as a lifesaving device or swim aid
ALWAYS check for leakage and firmness of the floatie - proper durability is critical in ensuring the structural integrity of the floatie and preventing accidents

Check with your pediatrician if you have any concerns
Parents NEED to be diligent and within arm's reach at all times. You can safely enjoy water activities with your baby by staying in direct contact with them at all times and avoiding any distractions that may draw away your focus. 

As with all inflatable products, you should inspect them for leaks and/or tears to ensure that all deflation hazards are eliminated. Mambobaby floaties or not, we strongly encourage all customers to conduct proper inflation and leakage tests before using your product and to keep your baby within arms reach.
For more information about product safety, please refer to our Terms and Services Section 13 of Limitation of Liability.
SHIPPING NOTICE: 05/05/2020 Update
We understand that most customers are concerned about shipping times when shopping online due to the virus crisis. Thank you for support online businesses during this hard time.

We want to be as transparent as possible thought it'd be appropriate to put this on our product listings that have access to fast shipping times so that customers can have a realistic expectation of when to expect their package. There is generally an additional 1-2 week delay on all shipping companies, not just our store. 

Although it is impossible to give a guaranteed date, here is the delivery range of how fast our MamboBaby products have been shipping out. We have a direct freight line to the USA generally not accessible to other distributors so your package should meet the shipping deadlines as followed:

Free Shipping: 
Originally 7-18 business days, has an additional delay of 5-10 business days; 
Total delivery time ranges from 14-30 business days to receive your package.

Premium US Shipping: 
Originally 4-7 business days, has an additional delay of 5-10 business days; 
Total delivery time ranges from 10-21 business days to receive your package.
Shipping Policy
Your order will be processed within 1-2 business days after you have completed your transaction. After your order is processed, you will receive an email with your tracking information right away.

We offer FREE US shipping on all orders, with our average delivery time ranging from 6-14 business days.

For more information on our shipping, please click here. Please allow that it may take up to or over 2 weeks for your order to deliver due to high demand and the pandemic crisis. Thank you for your understanding!
Our Guarantee
Usually, we offer free exchanges and returns here at ShoppyBay! However due to the current situation of the virus crisis, we have closed our receiving mail address due to delayed transport times. This means that all orders placed during this period will be on FINAL SALE.
Buying items online can be a daunting task, so we want to reassure you that there is no risk of buying from us and trying our products out. If you are unsure, you can click here to get an additional 1-year warranty. Please note that if an item is on sale, we only offer an hour grace-period to make ANY changes to your order. Items on sale are on extremely high demand therefore we must send out invoices to our manufacturer every night.
How do I pay if I don't have a PayPal account?
1. Select your cart and click "check out". Fill in your shipping information and click "complete order".
2. In the pop-up window, click on the location on the image below to activate PayPal Guest Checkout.
3. Choose your bank country.
4. Now you can use your preferred credit card to pay.
5. Final option:
Do you want to use this credit card to create a Paypal account?
According to your needs, choose yes or no.

6. Successful transaction and you will receive an email with your tracking number once your order has been fully processed.
Payment & Security
Your payment information is processed securely. We do not store credit card details nor have access to your credit card information.