Roll over image to zoom in
Description
Style our Mannequin Head Canvas Block however you want, throw on a wig, and pin it securely. The kit is perfectly designed for showcasing hair, hats, headbands, and headpieces.
Complete your mannequin making tools and accessories with this kit! Have the assistance you need to be successful in creating your custom hairpiece.
Are you suffering from thinning hair? Make your own wig effortlessly with our Mannequin Head Canvas Block Display Kit! Whether you're a professional or a beginner, this kit won't disappoint. This is the ultimate tool for your wig making that will set you up for success.
Many people are depending on wigs these days because it is the ideal solution for those who lose hair gradually, or who suffer from thinning hair or falling hair. With our Mannequin Head Canvas Block Display Kit, it helps you to succeed in making your custom hairpiece. By using this kit and practicing, you'll get to learn really simple techniques that can improve your craft.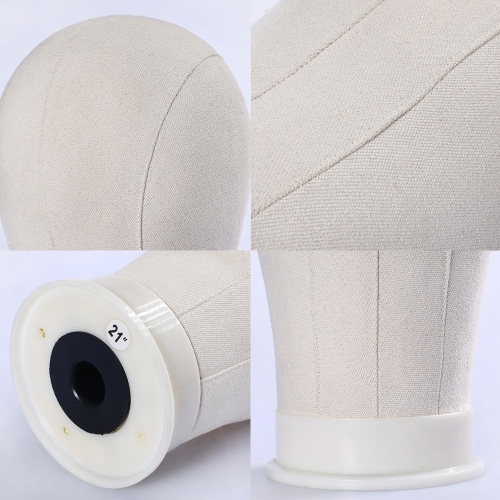 FEATURE(S):
CONVENIENT DESIGN: Mannequin Head Canvas Block Display Kit is made of poly-filled, professionally designed according to human's head shape, you could make wig easily and never worry about your wig out of shape.
NUMEROUS USAGE: This mannequin head is designed for hair experts, salon, and even for beginners. You could put pins and hold wigs easily. Mannequin Head Canvas Block Display Kit is a great choice if you are looking for a durable and professional head.
DURABLE MATERIAL: It comes with a poly-filled organic material that helps the needle to be easily inserted and pulled out. This material is so strong and more durable than other canvass head material. The pins will not move at random.
MASTER YOU CRAFT: Mannequin Head Canvas Block Display Kit is compact and convenient which makes it fit for practicing at home, allowing you to insert the needle and hold the wig easily so you can master this craft.
EFFORTLESS INSTALLATION: This kit comes with a table c-clamp that fits perfectly with the canvass head. It allows you to hold the head on every table effortlessly and with no worries because of its sturdiness.
COMPLETE WIG MAKING KIT: A kit that offers a complete wig making kit for both beginners and professionals. No need for you to purchase additional accessories because this kit won't disappoint.
SPECIFICATION(S):
Material: Poly Filled
Head Height: 12"
Weight: 352g, 387g, 403g, 437g, and 458g
Size: 21", 22", 23", 24", and 25"
PACKAGE INCLUDE(S):
1 x Canvas Head
1 x Styling Tail Comb
1 x Table C-Clamp
10 x C Type Weaving Needles
2 x Plastic Duck Teeth Bows Clips
1 x Black Sewing Thread
1 x Dome Wig Cap
6 x Wig Combs
1 x Wig Net
2 x U-Shape Trimming Scissors
10 x T-Pins
Q&A:
Q: Is there a hole in the bottom of the canvass head for a tripod?
A: Yes, there is. It has a unique base design that is easy to install and match with any wig clamp.
Q: Which side are the front and the back of the mannequin?
A: This mannequin head doesn't have a front nor back so it only depends on you.
Q: Can the clamp be mounted on a thick table?
A: The clamp is suitable for a maximum table thickness of approximately 1.5 inches.
Q: Does it emit a bad smell?
A: No, it doesn't have any foul odor.
Shipping Policy
Your order will be processed within 1-2 business days after you have completed your transaction. After your order is processed, you will receive an email with your tracking information right away.

We offer FREE US shipping on all orders, with our average delivery time ranging from 6-14 business days.

For more information on our shipping, please click here. Please allow that it may take up to or over 2 weeks for your order to deliver due to high demand and the pandemic crisis. Thank you for your understanding!
Our Guarantee
Usually, we offer free exchanges and returns here at ShoppyBay! However due to the current situation of the virus crisis, we have closed our receiving mail address due to delayed transport times. This means that all orders placed during this period will be on FINAL SALE.
Buying items online can be a daunting task, so we want to reassure you that there is no risk of buying from us and trying our products out. If you are unsure, you can click here to get an additional 1-year warranty. Please note that if an item is on sale, we only offer an hour grace-period to make ANY changes to your order. Items on sale are on extremely high demand therefore we must send out invoices to our manufacturer every night.
How do I pay if I don't have a PayPal account?
1. Select your cart and click "check out". Fill in your shipping information and click "complete order".
2. In the pop-up window, click on the location on the image below to activate PayPal Guest Checkout.
3. Choose your bank country.
4. Now you can use your preferred credit card to pay.
5. Final option:
Do you want to use this credit card to create a Paypal account?
According to your needs, choose yes or no.

6. Successful transaction and you will receive an email with your tracking number once your order has been fully processed.
Payment & Security
Your payment information is processed securely. We do not store credit card details nor have access to your credit card information.