Roll over image to zoom in
Description
Lower your electricity bill up to 75% off with our Portable Mini Cooling Air Conditioner using it anytime and anywhere instead of your old, traditional air conditioner.
Combat the summer heat with an efficient and reliable portable AC. Experience cool breeze while saving on energy bills.
Do you feel hot and irritated because of the hot weather and humidity? We have a solution to make you feel at ease. Our Mini Portable Cooling Air Conditioner is an easy and effective way to bring a cool breeze while removing humidity to your room. It gives a greater effect on air conditioning than simple fans. This is a must-have unit in your room.
Why spend another day sweating because of the heat when you can have our Mini Portable Cooling Air Conditioner! It will deliver a satisfying cool breeze to your room and it is a practical way to cool a single room. It eliminates the need for a central cooling system and provides cool, refreshing air everywhere you go. This is simply the best portable air conditioner with the feel of arctic air for your hottest summer days!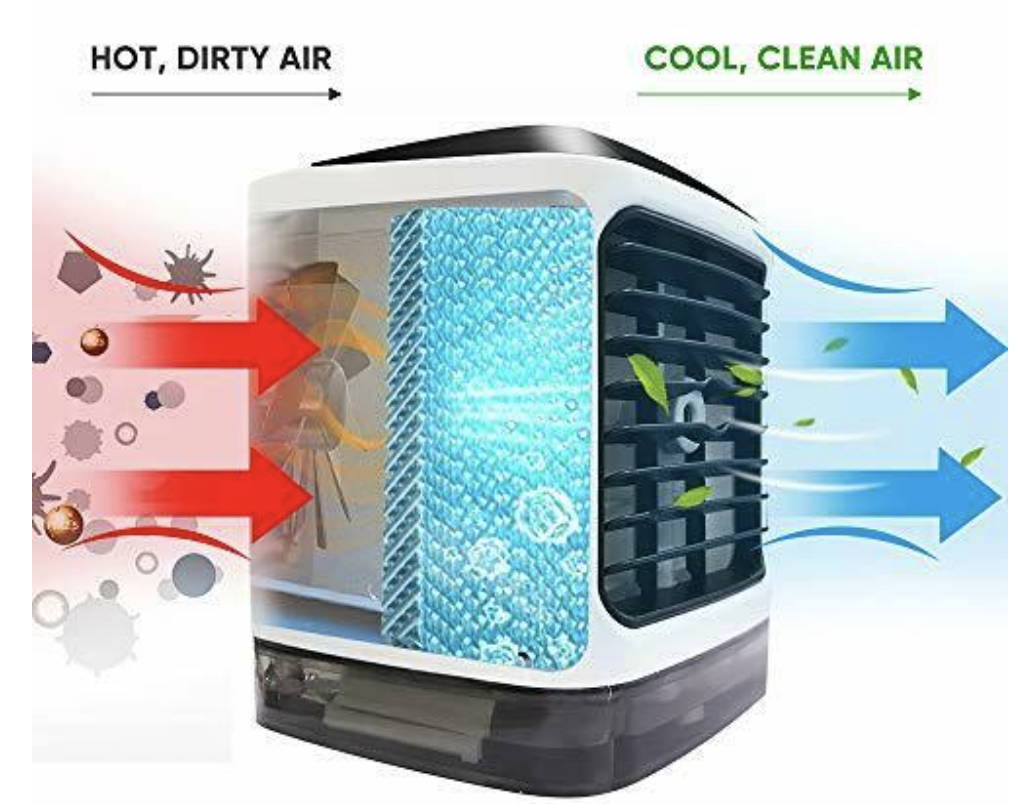 FEATURE(S):
3-POSITION SPEED ADJUSTMENT: Our Mini Portable Cooling Air Conditioner has 3 modes of speed: Normal wind, Natural wind, and Sleeping wind. It functions as low, medium, and high speed. Even in strong volume, it still has low noise.
ENERGY EFFICIENT: Unlike traditional indoor AC units, our Air Conditioner consumes less than 10W of electricity and won't add much to your electricity bill.
BRING ANYWHERE & EASY TO USE: Consider it as your personal air conditioner with its hidden handle so you can bring it anywhere. Simply pour cold water (the cooler the better) into the air conditioner and it's ready to use!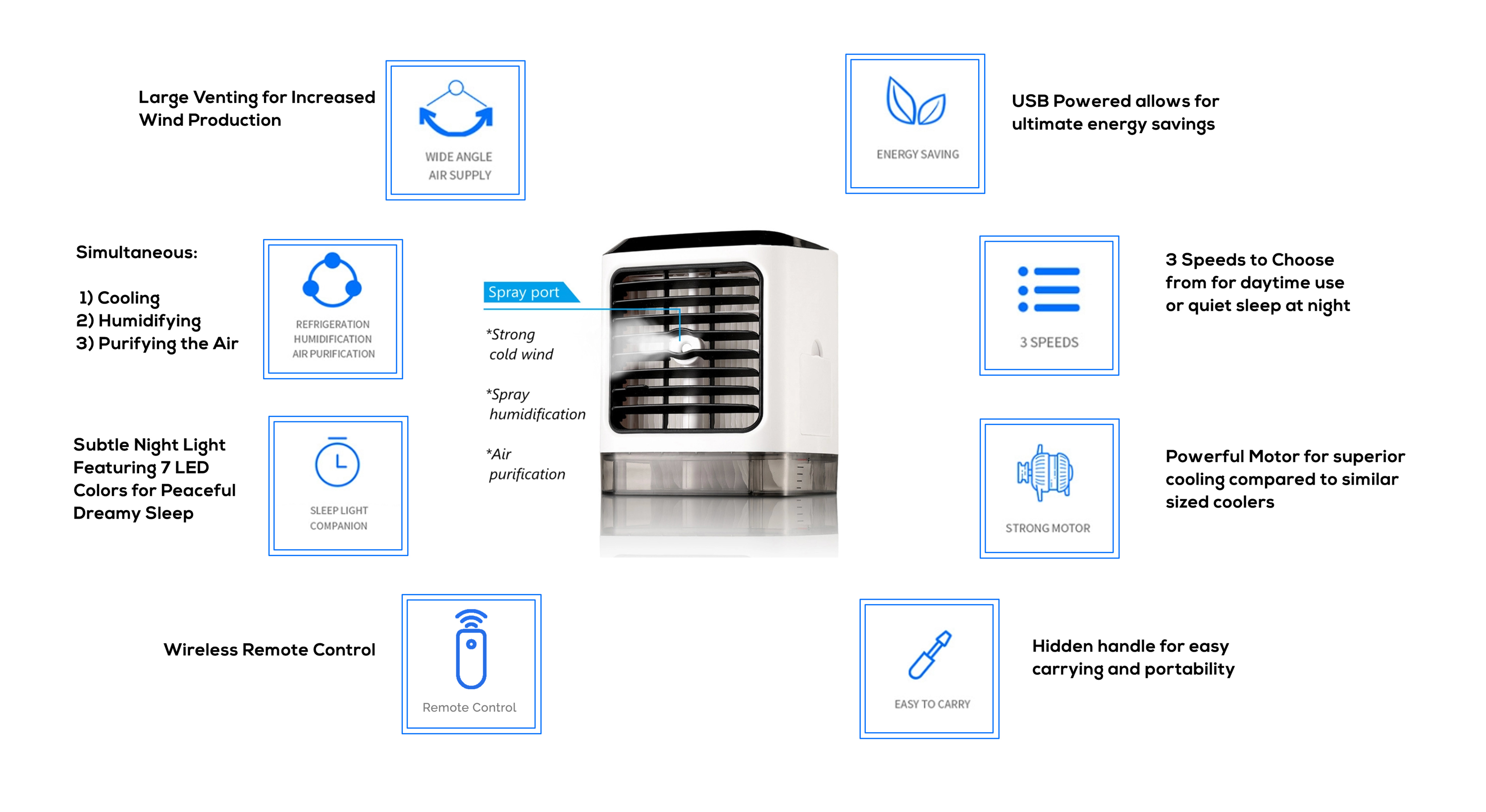 INNOVATIVE DESIGN: This is a mini countertop air conditioner that doesn't need a vent, meaning it requires no window and is space-friendly. Control it using its remote control and it has an automatic swinging feature.
FROSTY & COOLING AC: Enjoy the breeze of the nice, cool, cold air coming from our tiny ductless Air Conditioner Unit. It works as a fan, humidifier, air purifier, and air conditioner.
PREMIUM QUALITY & SAFE: Our Mini Portable Cooling Air Conditioner is made of high standard materials to ensure its durability. It has a safe design that child can't get their fingers in.
SPECIFICATION(S):
Weight: 880g
Working Current: 2A
Input Voltage: 5V
Cooling Power: 6-15W
Capacity: 480mL
Dimension: 150mm x 152mm x 185mm
Cooling Range: 3°C to 10°C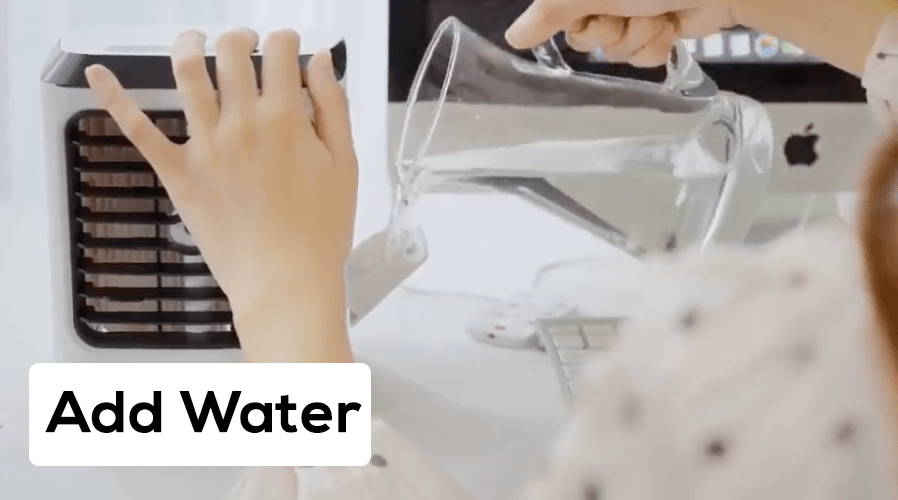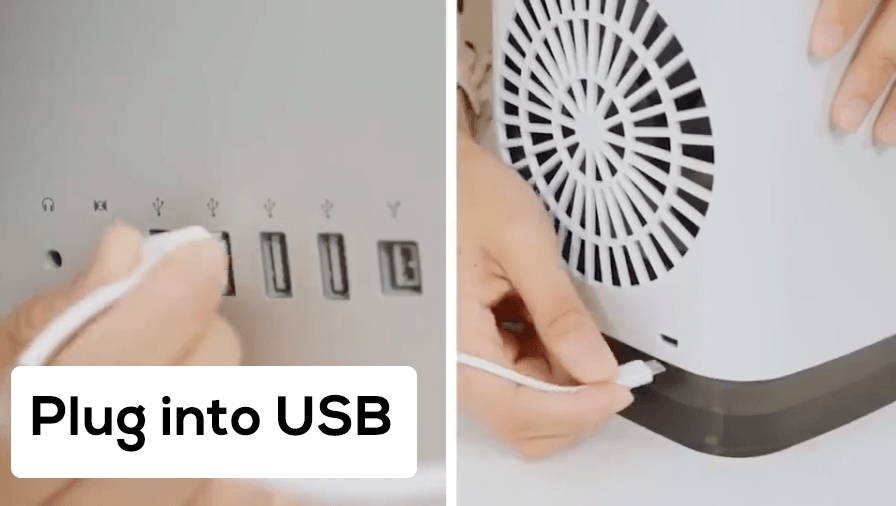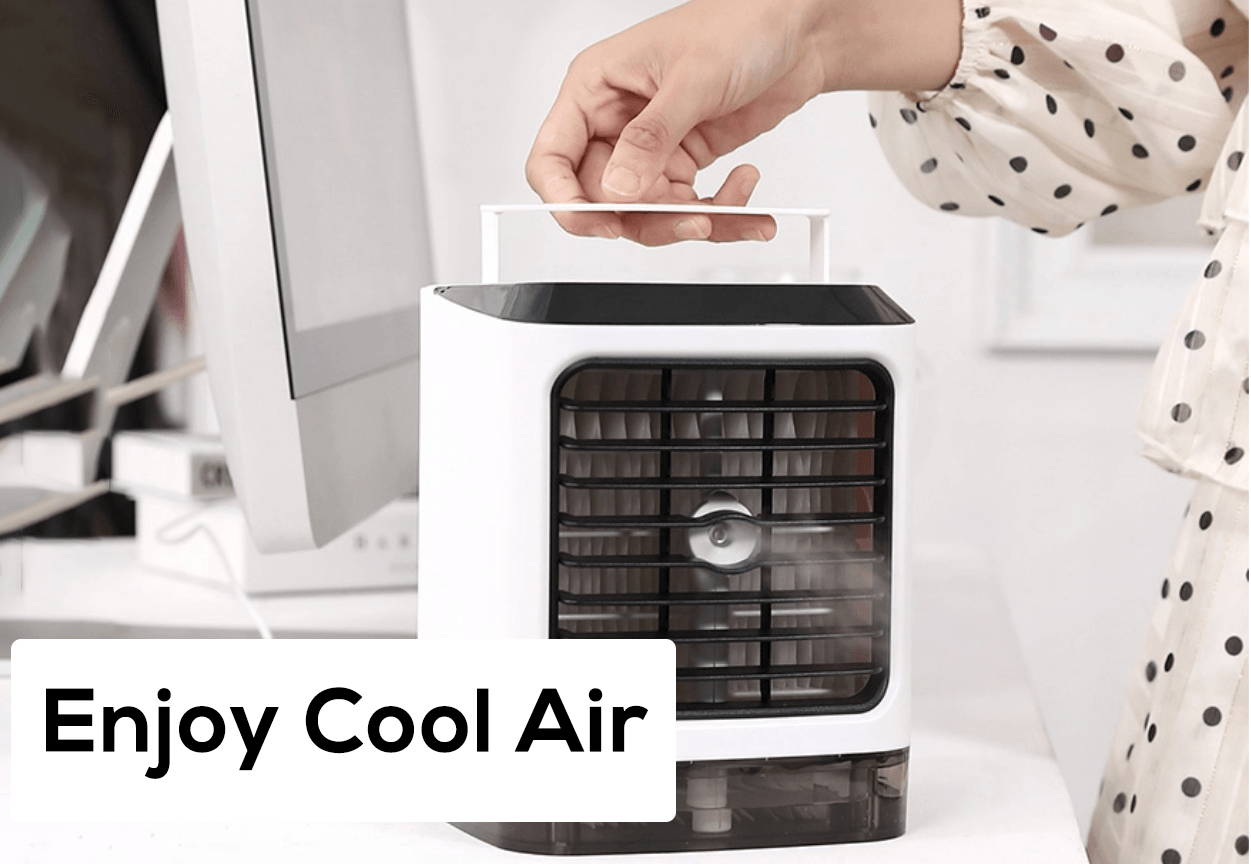 PACKAGE INCLUDE(S):
1 x Instructional Manual
1 x 1.5m USB Cable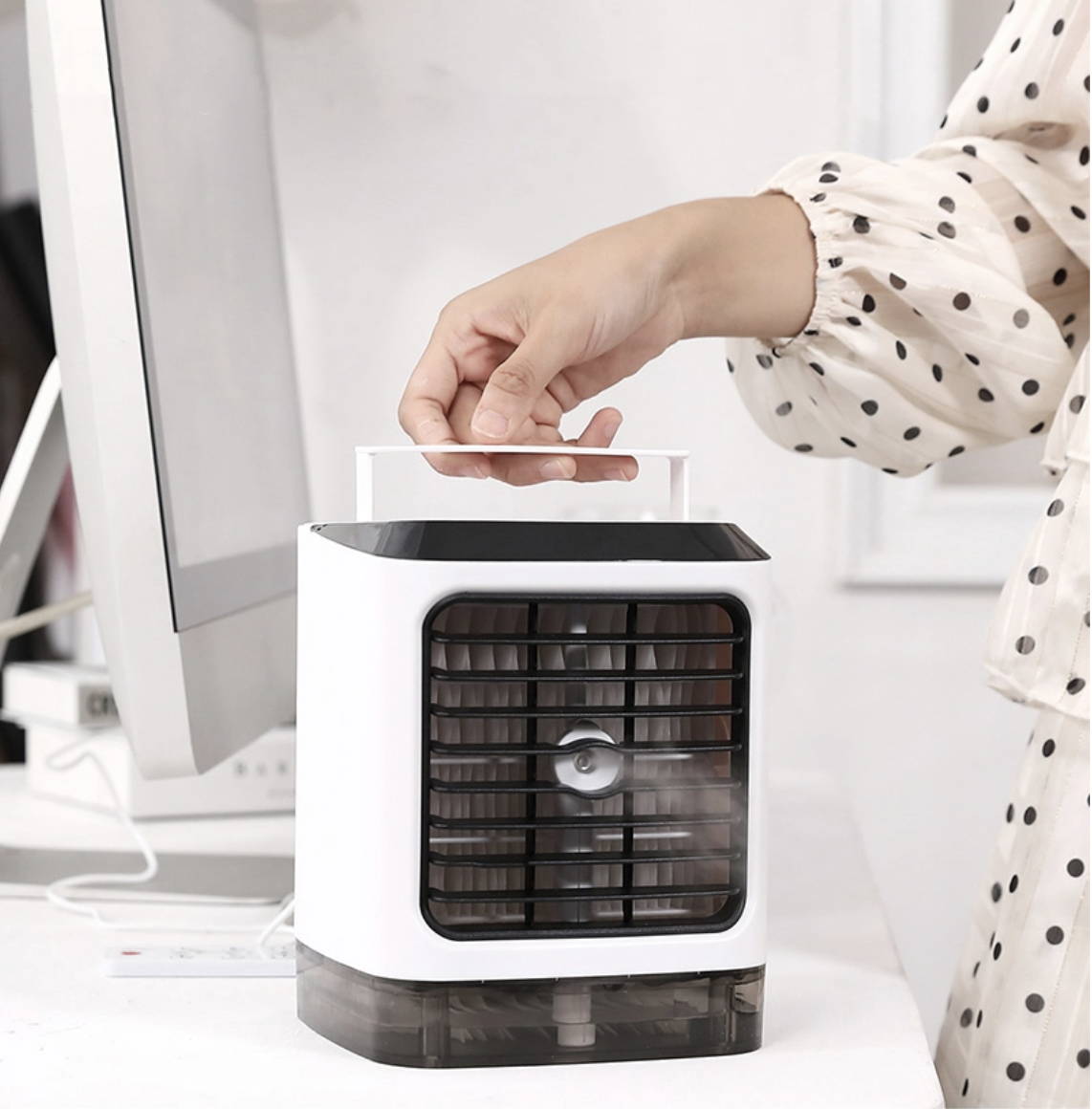 Q&A:
Q: How is an air cooler different from a standard fan?
A: Normal fans use fan blades to circulate air around the room without offering any cooling. Air coolers use the natural process of water evaporation to cool incoming hot air and use a powerful fan to evenly distribute newly cooled air. The temperature of dry air can drop significantly when liquid water transforms into water vapor (through evaporation).
Q: Does it have a handle?
A: Yes, it has! It comes with a hidden handle that can be freely stretched for your convenience.
Q: How is an air cooler different from an air conditioner?
A: Air conditioners require a chemical refrigerant and an energy-consuming compressor to transform hot air into cool air. The hot air must be released outside the room, making them less environmentally friendly. The more complex composition of air conditioners also makes them more expensive to purchase and they consume significantly more electricity during use.
Q: How long will the battery last?
A: The battery will last from 6 to 8 hours.
Shipping Policy
Your order will be processed within 1-2 business days after you have completed your transaction. After your order is processed, you will receive an email with your tracking information right away.

We offer FREE US shipping on all orders, with our average delivery time ranging from 6-14 business days.

For more information on our shipping, please click here. Please allow that it may take up to or over 2 weeks for your order to deliver due to high demand and the pandemic crisis. Thank you for your understanding!
Our Guarantee
Usually, we offer free exchanges and returns here at ShoppyBay! However due to the current situation of the virus crisis, we have closed our receiving mail address due to delayed transport times. This means that all orders placed during this period will be on FINAL SALE.
Buying items online can be a daunting task, so we want to reassure you that there is no risk of buying from us and trying our products out. If you are unsure, you can click here to get an additional 1-year warranty. Please note that if an item is on sale, we only offer an hour grace-period to make ANY changes to your order. Items on sale are on extremely high demand therefore we must send out invoices to our manufacturer every night.
How do I pay if I don't have a PayPal account?
1. Select your cart and click "check out". Fill in your shipping information and click "complete order".
2. In the pop-up window, click on the location on the image below to activate PayPal Guest Checkout.
3. Choose your bank country.
4. Now you can use your preferred credit card to pay.
5. Final option:
Do you want to use this credit card to create a Paypal account?
According to your needs, choose yes or no.

6. Successful transaction and you will receive an email with your tracking number once your order has been fully processed.
Payment & Security
Your payment information is processed securely. We do not store credit card details nor have access to your credit card information.