Roll over image to zoom in
Description
Get an actual clean shower instead of jumping in the water or using those old, dirty outdoor bathrooms during your next camping adventure with our Portable Outdoor Camping Shower!

Continue to feel fresh and clean during your camping trip! It's not good not to feel good during your camping trip, stay fresh after a long trek all day long.
Did a long and tiring walk today outside? Camping can be fun but it is more fun if you can stay clean and fresh. No matter where your outdoor adventures take you, from water sports to hiking to camping on a mountainside, it's important to keep yourself clean and refreshed. And what better way to celebrate after a day of tough exercise, submersed in nature, than taking an open-air shower from the Portable Inflatable Camping Shower. 
The best Portable Inflatable Camping Shower is usually large reservoirs of water that can be heated, hung on a tree branch, and then used to produce a shower of water where you can bathe. Heading into the woods means days of sweat, dirt, grime, and hard work but if you have this camping tool, showering can be possible and convenient for you.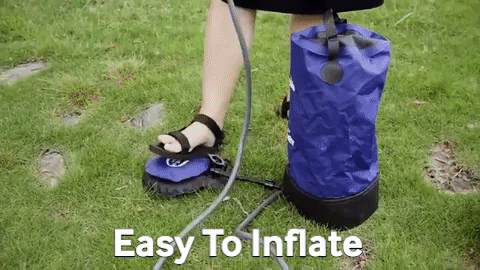 FEATURE(S):
LARGE CAPACITY: It can be used for washing your camping utensils, feet, hands, and a whole lot more. Everybody can enjoy this and feel clean during your camping trip. This can carry a large amount of water inside the bag.
LIGHTWEIGHT SHOWER: Walking in the woods can be tiring but even though you are carrying this camping shower, this is light in weight and will not give you extra hassle in carrying the camping shower because it also has a bag where you can put it in.
EASY TO INSTALL: You don't need complicated manual instructions just so you can shower and use it. It is very easy by filling up the bag full of water and press on the footpad or the nozzle spray.
HEAVY-DUTY: A bag carrying a big amount of water must be heavy-duty, and is what this camping shower offers to you as well.
REINFORCE HANDLE: You can use the strong handle when carrying it and placing it somewhere you want to shower or wash something.
HANDY SPRAY NOZZLE: The nozzle also sprays just like your shower spray in the bathroom. It is not heavy and you can use it easily.
SPECIFICATION(S):
Water pipe length: 78.74 inches
Net weight: 823g
Material: PVC (barrel), ABS (faucet), & Rubber (tube).
PACKAGE INCLUDE(S):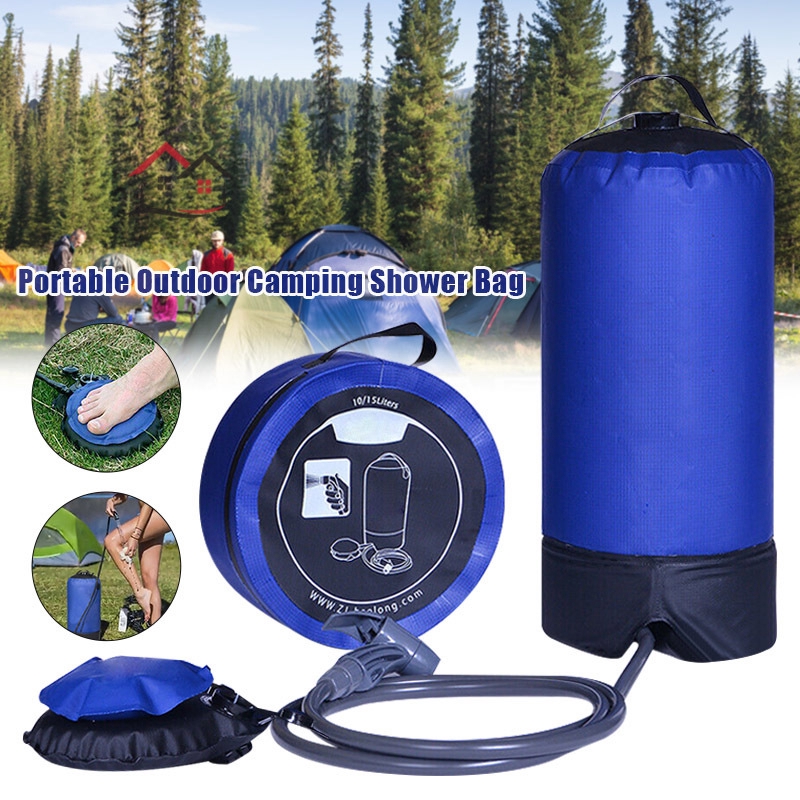 Q&A:
Q: Can a two-person shower with this?
A: Yes, the camping shower can load a big amount of water enough for your essential camping needs that require water.
Q: How much water can I put inside?
A: You can put at least 11litres of water inside the water bag.
Q: Does this have an on/off switch?
A: No, you only need to press the footpad or the nozzle for the spray for it to function.
Q: How long is the hose of the spray?
A: The spray has 78.74 in length precisely.
Shipping Policy
Your order will be processed within 1-2 business days after you have completed your transaction. After your order is processed, you will receive an email with your tracking information right away.

We offer FREE US shipping on all orders, with our average delivery time ranging from 6-14 business days.

For more information on our shipping, please click here. Please allow that it may take up to or over 2 weeks for your order to deliver due to high demand and the pandemic crisis. Thank you for your understanding!
Our Guarantee
Usually, we offer free exchanges and returns here at ShoppyBay! However due to the current situation of the virus crisis, we have closed our receiving mail address due to delayed transport times. This means that all orders placed during this period will be on FINAL SALE.
Buying items online can be a daunting task, so we want to reassure you that there is no risk of buying from us and trying our products out. If you are unsure, you can click here to get an additional 1-year warranty. Please note that if an item is on sale, we only offer an hour grace-period to make ANY changes to your order. Items on sale are on extremely high demand therefore we must send out invoices to our manufacturer every night.
How do I pay if I don't have a PayPal account?
1. Select your cart and click "check out". Fill in your shipping information and click "complete order".
2. In the pop-up window, click on the location on the image below to activate PayPal Guest Checkout.
3. Choose your bank country.
4. Now you can use your preferred credit card to pay.
5. Final option:
Do you want to use this credit card to create a Paypal account?
According to your needs, choose yes or no.

6. Successful transaction and you will receive an email with your tracking number once your order has been fully processed.
Payment & Security
Your payment information is processed securely. We do not store credit card details nor have access to your credit card information.