Roll over image to zoom in
Description
Ease the pain from your neck to your shoulder. Now you can enjoy a good massage in the comforts of your home!
Do you want to experience the ultimate neck pain relief you always dreamed of? The Smart Electric Neck and Shoulder Massager are here to relieve your sore, tense neck muscles and save you from the distress of those awful migraines, safely and easily. A must-have device you deserve.
It is equipped with implanted, powerful electromagnetic pulse, 3D smart technology, and 6 massage methods, making our Electric Infrared Back and Neck Massager a device that quickly generates deep, penetrating warmth that lasts and goes directly to your problem areas. It has lightweight and soft qualities that provide maximum, soothing relief for acute neck pain, muscle spasms, chronic stiffness and tension in the neck and head area. It can also help you in physical therapy and speed up recovery after sports injuries.
FEATURE(S):
ELECTRIC MUSCLE STIMULATION: The electrode pads will give out electric current at a very minimal intensity in order to elicit muscle contraction. Simply attach the pads on the target area and get it massaged at your desired intensity. You can use it for different parts of the body like back, hands or legs in order to reduce pain and muscle fatigue.
INSTANT NECK PAIN RELIEF: It lets your muscles feel relaxed in the affected area so you can enjoy physical exercise without complications, pain or discomfort.

3D-INTELLIGENT FIT TECHNOLOGY: You can easily adjust the massager according to the curvature of your neck. Once the device is fitted on your neck it will provide an even distribution of pulses that will eliminate pain from bigger trigger points.
EASY TO USE: Because it is powered by 2AAA dry batteries, you won't have to plug it in in order for this device to give you the flexibility to use it after a stressful day. Its assembly and use are so simple that anyone can do it. You can use it for up to 7 hours without battery problems.
PORTABLE & CONVENIENT: This device is wireless so you can use it whenever and wherever you need it. A single session can melt away the pain in a few minutes.
160 DEGREE ADJUSTMENT: This product is not size specific, which means it can be adjusted to 160 degrees so that it fits your neck comfortably. Its ergonomic design fits all types of neck contours whether broad or thin.
REUSABLE: It has no moving parts and no setup or batteries are required so you can easily store it in your luggage when traveling, or simply be placed in your dresser when you are done using it at home.
STRESS RELIEF DEVICE: Improve your mood and performance with this device that's equipped with 6 kinds of modes. It combats everyday stress for the person who uses it and can cause a pleasant feeling of relaxation.
SPECIFICATION(S):
Material: Premium ABS Material
Power Supply: 2x AAA Batteries
Relax Time: 7 hours of Continued Relaxation
Electric Pulse Frequency: 0Hz-1000Hz
Dimension: 22.5 x 20 x 5 cm
PACKAGE INCLUDE(S):
2 x Massager Pads with Wire
1 x User Manual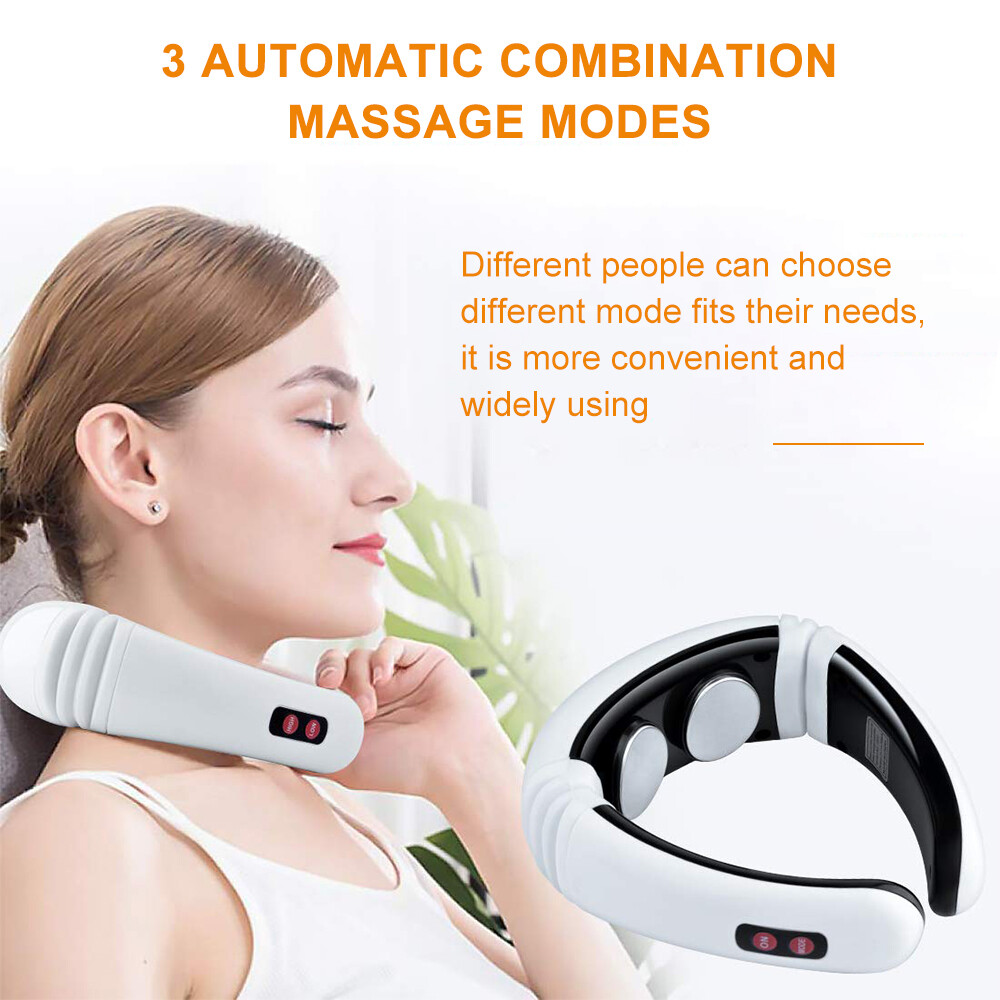 Q&A:
Q: Is it adjustable in size?
A: It can adjust the size, the material has a certain stretch.
Q: Can I use this on the airplane?
A: The neck massager does not have Bluetooth, it can be used safely during the journey.
Q: How strong is the highest setting?
A: This massager has 15 grades with heating and 3 modes of vibration function.
Shipping Policy
Your order will be processed within 1-2 business days after you have completed your transaction. After your order is processed, you will receive an email with your tracking information right away.

We offer FREE US shipping, with our average delivery time ranging from 6-14 business days.

While over 90% of businesses are closed during these unprecedented times, we remain open. However, our stock is more limited than ever so please note that shipping times may face potential delay due to the pandemic.

For more information on our shipping, please click here. Please allow that it may take up to or over 2 weeks for your order to deliver due to high demand and the pandemic crisis. Thank you for your understanding!
Our Guarantee
Usually, we offer free exchanges and returns here at ShoppyBay! However due to the current situation of the virus crisis, we have closed our receiving mail address due to delayed transport times. This means that all orders placed during this period will be on FINAL SALE.
Buying items online can be a daunting task, so we want to reassure you that there is no risk of buying from us and trying our products out. If you are unsure, you can click here to get an additional 1-year warranty. Please note that if an item is on sale, we only offer an hour grace-period to make ANY changes to your order. Items on sale are on extremely high demand therefore we must send out invoices to our manufacturer every night.
How do I pay if I don't have a PayPal account?
1. Select your cart and click "check out". Fill in your shipping information and click "complete order".
2. In the pop-up window, click on the location on the image below to activate PayPal Guest Checkout.
3. Choose your bank country.
4. Now you can use your preferred credit card to pay.
5. Final option:
Do you want to use this credit card to create a Paypal account?
According to your needs, choose yes or no.

6. Successful transaction and you will receive an email with your tracking number once your order has been fully processed.
Payment & Security
Your payment information is processed securely. We do not store credit card details nor have access to your credit card information.