Roll over image to zoom in
Description
Feed songbirds not squirrels, starlings, or grackles. This Hanging Bird Feeder is designed to squirrel proof and prevent any pesky squirrel that wants to steal your songbird's food.
Stop those agile squirrels from climbing the pole and stealing the invaluable bird seeds. There are humane ways to deal with these furry creatures.
Are you annoyed how destructive the squirrels messing your bird feeder? Your birds ran out of food because squirrels are such thieves and they even scare away all your feathered friends. Stop worrying! Our Squirrel Proof Bird Feeder Box is the best solution for those dilemmas. Worry no more to those notorious squirrels that steal the bird's food and enjoy the view of happy and cute birds.
Our Squirrel Proof Bird Feeder Box is a worth trying technique of feeding birds because you can hang it anywhere that is out of reach from those furry creatures. Now you can attract more birds to come often as squirrels won't be having a chance to even come closer to the bird feeder, depending on where you are going to hang it. Your family and friends will be entertained with this beautiful view.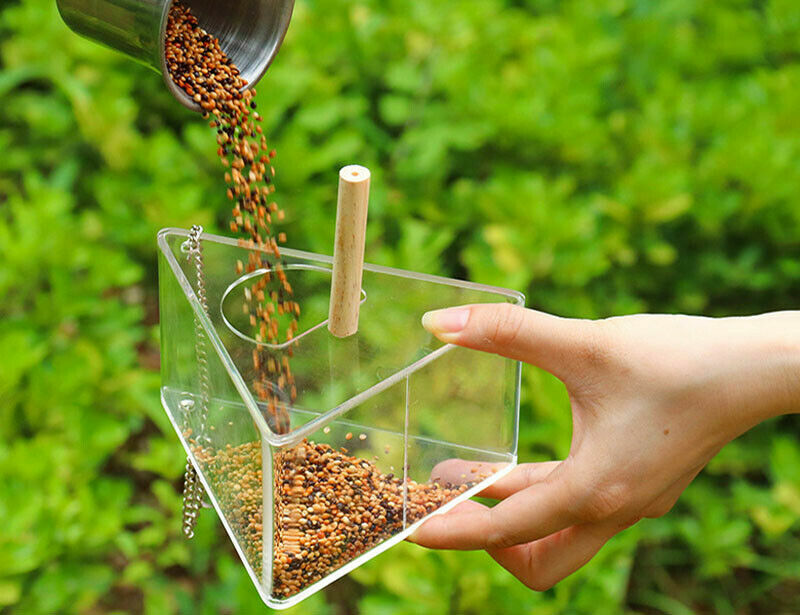 FEATURE(S):
MAKES A BEAUTIFUL VIEW: Whether you are a nature lover or a bird lover, our Squirrel Proof Bird Feeder Box makes a beautiful view for your window, yard, or anywhere you want to hang it. This attracts the bird so you won't need to call their attention, as they voluntarily come to the bird feeder near you. Educational and fun for kids and parents to observe.
INNOVATIVE DESIGN: With its clear and triangular design it has a great air circulation vent system and it won't block the line of sight so you can observe and be entertained with birds eating at any angle. Its domed roof design discourages the hungriest furry creatures.
GREAT QUALITY | BUILT TO LAST: This is made of high-quality plastic material to make sure it is solid and durable whether it be a sunny day or rainy day. This is built to last for you to enjoy the view every day.
HANG ANYWHERE: Our Squirrel Proof Bird Feeder Box also includes a steel chain, so anywhere you've got a hook, peg, or branch, you can have a beautiful hanging bird feeder box. It's ideal for backyards, windows, or hangs it wherever you want.
EASY MAINTENANCE: This is easy to disassemble, fill, and clean. You can quickly wipe the surface with a damp towel to remove any dust or watermarks.
EASY TO INSTALL: It has 2 installation methods: You can use its strong suction cups that can be fixed on the outside of the window glass and the other is through hanging by chains, which can surely squirrel proof your bird feeder.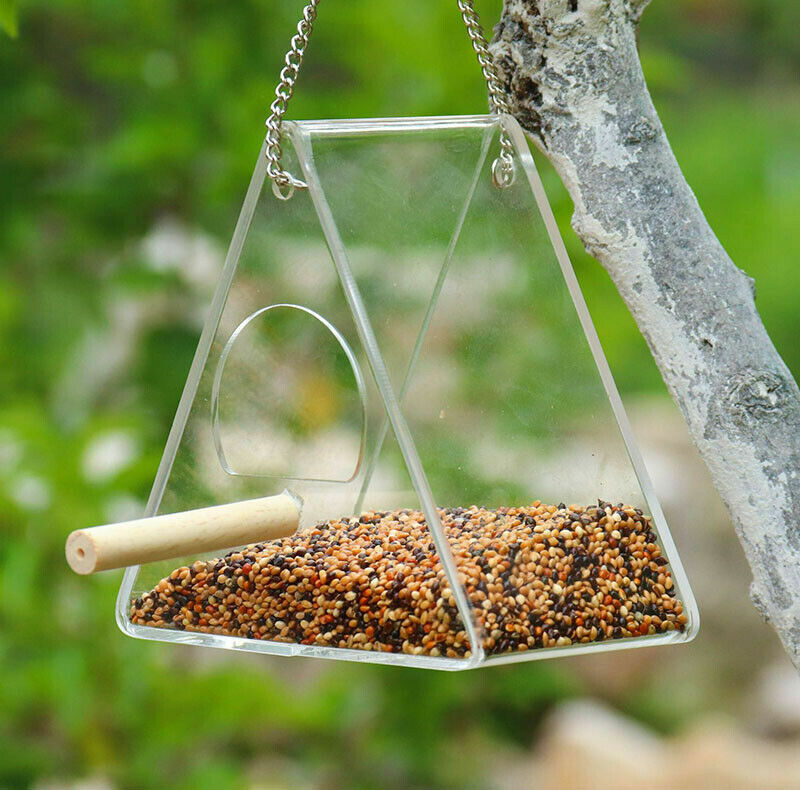 SPECIFICATION(S):
Material: Plastic
Size: Approx. 13 x 13 x 7.3 cm
PACKAGE INCLUDE(S):
Q&A:
Q: I just want to double-check-- does this hold whole sunflower seeds (i.e. is the feeding whole big enough)?
A: Yes. This is a great feeder and would recommend it to anyone. It will hold a variety of seeds and might even fit a fruit and nut blend.
Q: Is this heavy? Will it fall when it is full of seeds?
A: It is lightweight and can carry 1000ml of seeds. So it is safe and can withstand even birds stepping on it.
Q: Is this waterproof?
A: Yes, it is a waterproof design.
Q: Can it really hold the seeds? Are you sure the seeds won't fall?
A: The bird feeder is designed to be anti-scattered, leak-proof, and splash-proof. It is a reliable bird feeder.
Shipping Policy
Your order will be processed within 1-2 business days after you have completed your transaction. After your order is processed, you will receive an email with your tracking information right away.

We offer FREE US shipping, with our average delivery time ranging from 6-14 business days.

While over 90% of businesses are closed during these unprecedented times, we remain open. However, our stock is more limited than ever so please note that shipping times may face potential delay due to the pandemic.

For more information on our shipping, please click here. Please allow that it may take up to or over 2 weeks for your order to deliver due to high demand and the pandemic crisis. Thank you for your understanding!
Our Guarantee
Usually, we offer free exchanges and returns here at ShoppyBay! However due to the current situation of the virus crisis, we have closed our receiving mail address due to delayed transport times. This means that all orders placed during this period will be on FINAL SALE.
Buying items online can be a daunting task, so we want to reassure you that there is no risk of buying from us and trying our products out. If you are unsure, you can click here to get an additional 1-year warranty. Please note that if an item is on sale, we only offer an hour grace-period to make ANY changes to your order. Items on sale are on extremely high demand therefore we must send out invoices to our manufacturer every night.
How do I pay if I don't have a PayPal account?
1. Select your cart and click "check out". Fill in your shipping information and click "complete order".
2. In the pop-up window, click on the location on the image below to activate PayPal Guest Checkout.
3. Choose your bank country.
4. Now you can use your preferred credit card to pay.
5. Final option:
Do you want to use this credit card to create a Paypal account?
According to your needs, choose yes or no.

6. Successful transaction and you will receive an email with your tracking number once your order has been fully processed.
Payment & Security
Your payment information is processed securely. We do not store credit card details nor have access to your credit card information.